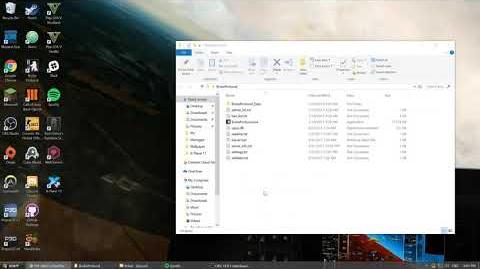 English Video by "DeathByKorea"
Método 1: reenvío de puertos Edit
Abra la página de configuración de su enrutador, vaya al paso 2 si no sabe cómo obtener la IP de la puerta de enlace de su enrutador, de lo contrario, vaya al paso 3.
Para obtener la IP de puerta de enlace predeterminada de su enrutador, abra CMD (Windows) o Terminal (Linux) en su barra de búsqueda y escriba ipconfig (ifconfig en linux).
Para Broke Protocol, reenvíe los puertos 5557 y 5558 en UDP, a la IP de su PC, nuevamente, esto se puede encontrar haciendo ipconfig | findtr / i "ipv4" (windows) o ip addr show | grep inet (linux), si se muestra varios, probablemente será el que más se parezca a la IP del enrutador.
Inicie el servidor ejecutando Server.bat (windows) o ./Start.sh desde un cd de terminal al directorio del servidor. La carpeta del juego se puede encontrar en Puedes copiar todo desde allí a otra carpeta para alojar el servidor). Your steam install path\steamapps\common\BROKE PROTOCOL (
Para configurar los ajustes del servidor, cambie el Server_info.txtS ettings.json y Admin incluidos.txt
Para detener el servidor, cierre la consola (Windows) y elimínelo usando el administrador de tareas o ejecute ./Stop.sh desde un terminal cd al directorio del servidor.
Method 2 : UPnP Port Mapping Edit
This method should only be used if you do not have access to the router settings page, Also, I'm not sure how this works on Linux, so if anyone with a linux box wants to try, please let me know how that goes.
Download UPnP Port Mapper
Open the program and press Connect
Create a Port Mapping Preset
Add a description (example 'Broke Protocol')
Leave Remote Host 120.6.0
Add a Port Range
Protocol of UDP, and ports 5557-5558
Save the preset, and select it in the preset menu
Add the preset by pressing 'Use'
Press update to ensure that the ports show up in the Port Mappings area
Continue with the 1st method from step 4.
Some Tips Edit
Server_info.txt Edit
You can shape this one with colors and sizes. You have to use for colors the color code (#ffffff), I give to you this site for example. And for sizes you have to use numbers. It works as HTML code.
Examples :hosrt
<size=45>Name of my Server</size>
<color=#88ff88>Flashy Green</color>
Community content is available under
CC-BY-SA
unless otherwise noted.